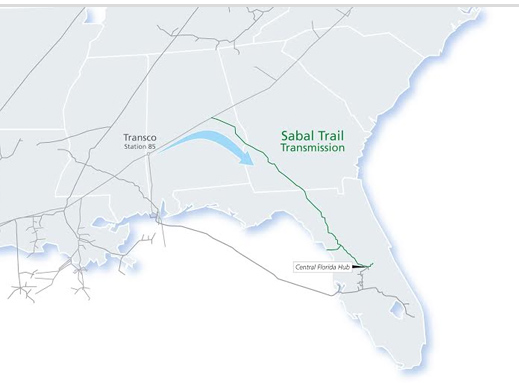 FERC has approved Sabal Trail Transmission, LLC's request to commence service of the following Sabal Trail Pipeline Project facilities:
  482.4 miles of mainline (and associated appurtenances) between the northern interconnect in Tallapoosa County, Alabama and the southern interconnect in Osceola County, Florida
  Alexander City Compressor Station in Tallapoosa County, Alabama
  Reunion Compressor Station in Osceola County, Florida
  Transco Hillabee, Gulfstream, and FSC Meter and Regulator Stations
The Sabal Trail Pipeline Project is a 515-mile interstate natural gas pipeline designed to provide transportation services for power generation needs to Florida Power and Light and Duke Energy of Florida.  Once completed, the pipeline will be capable of transporting over 1 billion cubic feet per day of natural gas.
The project is expected to be completely operational by the end of June 2017.