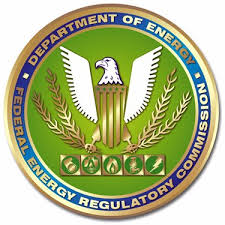 The Federal Energy Regulatory Commission (FERC) has sworn in Robert F. Powelson and Neil Chatterjee as commissioners, officially establishing a quorum. Powelson was sworn in today, Aug. 10, while Chatterjee was sworn in on Aug. 8.
Both Powelson and Chatterjee were nominated by President Donald J. Trump in May 2017, and confirmed by the U.S. Senate on August 4, 2017.
Powelson joins FERC from the Pennsylvania Public Utility Commission (PUC), where he served since June 2008, and led as Chairman from Feb. 24, 2011 through May 7, 2015. In 2011, Powelson served on Pennsylvania's Marcellus Shale Advisory Commission, which reviewed the Commonwealth's existing statutes, regulations and policies and provided recommendations to develop a comprehensive strategic proposal for the responsible and environmentally sound development of the Marcellus Shale.
Powelson is past president of the National Association of Regulatory Utility Commissioners, where he also served on the Board of Directors. He served as chairman of the NARUC Committee on Water and represented the Water Committee on NARUC's Task Force on Climate Policy. Powelson was active in NARUC activities involving critical infrastructure and nuclear waste disposal, and worked closely with NARUC leadership on aggressive pipeline safety standards with the U.S. Pipeline and Hazardous Materials Safety Administration.
Prior to joining the Pennsylvania PUC, Powelson served as president of the Chester County Chamber of Business & Industry. In 2005, he was selected by the Eisenhower Presidential Fellows to be a U.S. fellow in Singapore and Australia.
A native of Pennsylvania, Powelson is a graduate of St. Joseph's University and received a Master of Governmental Administration degree from the University of Pennsylvania.
Chatterjee joins FERC after serving as energy policy advisor to U.S. Senate Majority Leader Mitch McConnell (R-KY). Prior to serving Leader McConnell, Chatterjee worked as a Principal in Government Relations for the National Rural Electric Cooperative Association and as an aide to House Republican Conference Chairwoman Deborah Pryce (R-OH). He began his career in Washington, D.C. with the House Committee on Ways and Means.
A native of Lexington, KY, Commissioner Chatterjee is a graduate of St. Lawrence University and the University of Cincinnati, College of Law.